An essential component which affected the selection of StrAU's research areas is their sharp focus on finding solutions for current key problems of petroleum industry: modern prospecting methods, geological modelling, the latest technologies of field development and its impact on the environment.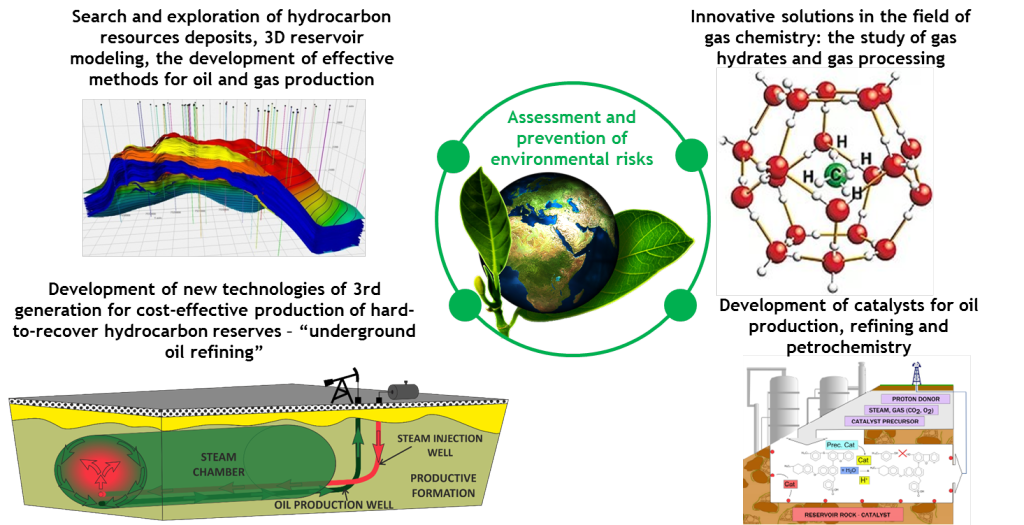 Within the framework of this priority area development, we effectively expand interdisciplinary links, i.e. when geologists, chemists, physicists, mathematicians, and biologists cooperate to tackle a problem given. This allows enlarging professional engagement and interaction, for example, in design and trial testing of oil-soluble catalysts or modelling in-situ combustion.
Strategy for development: 
– research and development in areas that will be in high demand in the nearest future, including effective technologies for viscous oil and bitumen production (where we can become world leaders in the coming years);
– development of energy-efficient and clean technologies thanks to the extensive use of catalytic systems;
– mathematical simulations of problems at all levels.
Research will be carried out at the four Centres of Excellence in cooperation with leading research centres and business-partners.
World-class research by 2020:
1. Environmental changes
2. Stratigraphy and 3D-modelling of hydrocarbons deposits
3. In-situ oil refining
4. Petrochemistry and catalysis
Interdisciplinary research in these areas will be conducted within the Centers of Excellence:
EEE-technologies of hydrocarbon recovery and refining.
Digital technologies and simulation in oil and gas sphere.
Climate change assessment, paleoclimatology and stratigraphy.
Development of catalysts for oil refining and petrochemistry.
EcoBioTechnology in the oil and gas sphere.